Charlie Johnson is a young juvenile offender and the older brother of Kelvin Johnson.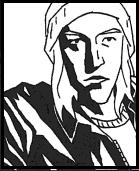 Charlie is a background character from the first book of the series, Raven's Gate. He is said to be Kelvin's older brother, who found out about the warehouse that Kelvin and Matt try to rob through a friend in prison. Matthew Freeman had never met him as he was in a young offender's institution, just outside of Manchester.
Ad blocker interference detected!
Wikia is a free-to-use site that makes money from advertising. We have a modified experience for viewers using ad blockers

Wikia is not accessible if you've made further modifications. Remove the custom ad blocker rule(s) and the page will load as expected.